Review of 123onlinecash

Reviewed February 12, 2006 by William Stotler, PLIWatch.org
This PLIWatch.org review contains: Summary, They Say...., Prequalification Requirements, Application, Documents and Electronic Signature, How Much Could We Get?, Customer Service Check, Good Practices, Questionable Practices, Technical Tidbits, Design Critique, Review Conditions
Summary
Claims to lend up to $1,500. On the Web since 2001. This Web site is published by a publisher

. When you fill out the prequalification form and application form, the actual lender

(CashNetUSA) charges $25 per $100 loaned on its electronic paperwork. CashNetUSA offered us a loan for $200.
123onlinecash's Website Says. . . .
"Need Cash? Get up to $1,500* in your account by TOMORROW! The Fastest Cash on the Net! No Credit Checks. No Paper Hassles! Nothing to Fax. Apply Online and We'll Contact You Within the Hour!"
Customer Testimonial: "I couldn't believe just how easy it was. Before I knew it, the money was in my account and my cash problems were solved!
Prequalification Requirements
To prequalify, 123onlinecash requires that an applicant: (1) Is employed or has regular monthly income. (2) Makes at least $1000 per month. (3) Has a checking account. (4) Is a U.S. citizen. (5) Is at least 18 years old.
Information required for prequalification includes a customer's: (1) Name. (2) Address. (3) E-mail Address. (4) Home Phone. (5) Work Phone (and extension). (6) A "best time to call." (7) Directly deposited check confirmation.
Application
The 123onlinecash application asked for a customer's: (1) Date of birth. (2) Mobile phone number. (3) Employer name. (4) Confirmation that employment has been longer than three months. (5) Social Security number. (6) Driver's license ID number. (7) Source of income (work or benefits). (8) Whether or not paychecks are directly deposited. (9) Monthly income. (10) How often the customer is paid. (11) Bank name. (12) Routing number. (13) Account number. (14) Account type. (15) Two references (and phone numbers). (16) Positive confirmation (by a checkbox) that the customer has read all Notices and Disclosures.
Documents and Electronic Signature
After prequalifying and applying, we were forwarded to a set of electronic documents to provide an electronic signature. These electronic documents were served to our Web browser (securely) by CashNetUSA--a Website for The Check Giant NM, LLC.
How Much Could We Get?
123onlinecash's main page claimed we could get $1,500. (So did the "How It Works" section: "By filling out our 2-minute application you will qualify for a cash advance for up to $1500.00!") We were prequalified for a $500 payday loan by filling out the Prequalification Requirements. After completing the actual Application, my loan's electronic paperwork indicated we were approved for $200.
Customer Service Check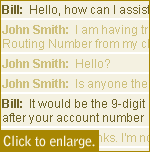 Live Help Test: Clicking "Live Help" got us an "Operator is Being Paged" message. After some delay a live help window did open with an operator named "Bill" available. We asked for help figuring out our ABA or Bank Routing Number "on our check." Bill couldn't provide more details about the numbers. When we suggested that we would just "put numbers in" and see what happened, Bill told us to do that. We asked Bill directly why we were only approved for up to $500 on the application when the Website said we could get $1,500. Bill said "First time customers are limited to $500. Returning customers can request more." The bottom of the 123onlinecash's Webpages said: "Not all lenders can provide up to $1,500." (We were, in the end, preapproved for only to $200.)
Good Practices
1. In the application's Notice and Disclosures section we were pleased to find this Website claimed that a short term loan is intended to solve only an "immediate, short-term cash flow problem." (See "How much more expensive is a payday loan than other credit?" for more information.)
2. 123onlinecash's Website appears to be complying with the Patriot Act's stipulations about lending: "NOTICE: We adhere to the Patriot Act and we are required by law to adopt procedures to request and retain in our records information necessary to verify your identity."
3. The Privacy Policy for 123onlinecash is honest about what their staff does with information you supply. (They tell you they reserve the right to sell any information you provide to third parties for any reason.)
4. An "opt-out" E-mail address is provided so you can "opt out" of E-mails 123onlinecash might send you. (This won't help you, however, if they sell your information to another company and that company sends you E-mail.)
5. 123onlinecash claims it is CAN-SPAM Act compliant.
Questionable Practices
1. 123onlinecash claimed $1,500 would be in our account tomorrow. Pah! $1,500 was promised but based on just answering a few prequalification questions (not enough information to determine anything about our financial status) we were downgraded to "up to $500." (Completing the actual CashNetUSA application we were further downgraded to just $200.) We don't care if there was fine print on the $1,500. Don't claim it if you are unlikely to award it. Fair marketing and advertising is about accentuating what you can (truthfully) do for a consumer.
2. In the 123onlinecash application we were asked to agree to binding arbitration

(and no class action lawsuits) as a way to settle any dispute that arises when we do business.
3. 123onlinecash's Website had many small flashing banner ads for "free games," "debt consolidation services," and a credit score company. Also, we were hit with a second pop-up window that had advertisements for other services. If we're here to get a payday loan do we need these distractions?
4. There was no public company mailing address, phone number available. (Note: Several E-mail addresses were provided on subpages. But, their Contact Us page had only a form--no other information.) We like to see at least a contact phone number on a Website so a consumer can call somebody if there is a problem.
5. A bogus trademark (TM) symbol appears after "123onlinecash" in graphics and text. (A "TM" signifies that a company has applied to get legal protection for its name and/or logo. A "TM" without the registration process means nothing at all.) A search of the U.S. Patent Office Trademark Database showed that "123onlinecash" is not actually registered and is not in the process of being registered at this time.
6. 123onlinecash's customer testimonals appear to be written by one person. This is just our gut feeling--we have no proof the testimonials aren't real. (In real testimonials we've seen, usually the use of language varies more widely from consumer to consumer.)
Technical Tidbits
1. 123onlinecash "broke" our Web browser's Back button. We couldn't return to 123onlinecash after we were forwarded to CashNetUSA to fill out their electronic paperwork. Some form of detection--we think it was a cookie--was used to kick us back to CashNetUSA everytime we tried to visit the original Website. We are pretty sure this is done so people don't accidentally return to 123onlinecash once they are forwarded to CashNetUSA. But this solution is not elegant--a better way would be for 123onlinecash to tell a user that they need to complete their next steps on CashNetUSA and then push them to CashNetUSA.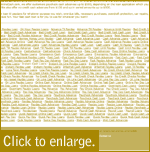 2. 123onlinecash uses questionable search engine spamming

techniques. Namely, when you click around the site on non-prominent links you easily find search engine spam pages. Also, hundreds of keyword links are linked to consumer-irrelevent in-site Webpages and stacked in paragraphs. This "keyword stuffing" trick is designed to help this site rank better than it otherwise would in the search engines. (There are other tricks in use--this was the one that caught our attention as being particularily questionable.) Come on guys--if you're going to spam the search engines at least hide the search engine spam from your visitors.
3. Of note, the 123onlinecash's forms happily accepted bogus information--we entered completely fake (but correctly formed) information to move through the payday loan application process and were never stopped. We would expect that a good form on the Web would check a bit of information. For example, checking a phone number should make sure it is valid (e.g., a phone number with the form (555) 555-5555). But, the check should also see if it is reasonable (e.g., (555) is not a valid area code--our fake area code should have been rejected).
Design Critique
1. 123onlinecash does not meet accessibility

standards:
A. 123onlinecash does not meet Section 508(c) compliance

standards.
B. 123onlinecash does not meet W3C WCAG Level A compliance

standards.
2. 123onlinecash's code is poorly designed--the site failed W3C Webpage validation

.
4. 123onlinecash's main page did appear to work A-OK in multiple Web browsers on multiple platforms.
5. Overall, 123onlinecash is a cobbled-together mass of images, links, and text. Specifically, the site's design emphasis is placed on a consumer filling out the prequalification form. (Fill out the form, quick, don't wait!) The site is apparently not designed to educate the consumer about what is offered. This approach is common in the payday loan industry on the Web.
Review Conditions and Standards
William Stotler reviewed 123onlinecash on February 12, 2006. Please Contact William if you have additional information about the reviewed Website, want to make comments, or note errors in this review.